Urantia-India Website: Public Commentary Page
Use this page to register your comments, suggestions and opinions !
My dear friend ! You are indeed a precious and valuable personality who possesses the potential to get transformed from your present existence as a material human being to higher orders of existence in some future time.
Your curiosity for seeking more valuable truths of a spiritual nature has perhaps caused you to find this site. To tell you the truth, such people who are of this category are the rarest kind in this world as of now.
To know the number of such unique persons who have visited this site, you may have a look into the flag counter that is provided elsewhere in this site.
Page views are not taken for this as some of you who find it interesting are likely to visit the site again and again.
You would be surprised to note that the people of your nature are indeed very few in this world!
In any case, if you are an accidental visitor you would not have taken this much time to get in to this page or spend this much time here!
Since you are of the rare kind, may I request you to take a few more minutes to type your valuable comments, opinions or suggestions using the facility below. This would allow you to find others like you and perhaps have later day fellowships. You can also write to me. My e-mail id is given here. If you don't mind, it would be desirable to give your actual name, place and e-mail id so that others like you can get in touch with you later privately. The e-mail id here cannot be used automatically by search computers as the @ symbol is replaced by [at]. All what you write are in the public domain and are visible to all visitors. But immature and ungodly people are not likely to be here and that is the natural safeguard!
To view the entries made by you and others like you [Click here] !
To go back to the Home Page of Urantia India [ Click Here ] !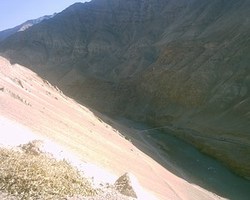 www.urantia-india.faithweb.com in the service of spreading the Universal fatherhood of God and brotherhood of man and working to spread the good news of the Urantia Papers to Indians and all their brothers and sisters all over the world !