News Paper Scans in JPEG Format for Your Thinking !
See these news scans and read the news once again !
When the Urantia Papers were handed over by the Invisible Celestial Personalities to the Human Contact Personalities some time in 1934 AD for the latters' reading, I am sure, the poor earthlings might have felt too bad about their lack of ability to understand most of the scientific information that the papers discussed in detail. Many of those information that the papers revealed were most likely difficult for even the most highly qualified persons of the human contact group, which included Dr Sadler and his wife Dr Mrs Leena Sadler and their friends of equal educational and professional standing at that time in Chicago, USA.
I was born in the year AD 1955, one or two months later after the Urantia Papers handed over by the celestials to the human group got printed for the first time as a book- the Urantia Book.
Even for me, the scientific information on the electronic configuration of atoms and the like got introduced in the curriculum of study when I was a graduate student of chemical engineering some time in the beginning of the 1970s. With that background and the decades of professional and scientific experience gained later, is not sufficient for me to grasp the knowledge of the Urantia Papers, even now.
Scientific discoveries have been taking place ever since 1955, vindicating the revelations, which though not of much importance to the believers of the papers like me, might prove useful to make the doubting Thomases believe in the existence of the intelligent universe organization of the Mighty Universal Father God, thereby humbling their egos to the Supreme Will.
These news scans are meant for those who are still doubting. I know that it is not so easy for people to get convinced.
If such a thing happen to just one such person in this world, this humble effort of mine would become fruitful and I would feel happy.
Happy for making one of my brothers align to the Father's side!
Er Rajan C Mathew FIE , Chartered Chemical Engineer, Bhilai, India.
NEWS LINKS BELOW (CLICK ON THE HYPERLINK TO READ):
1. NEWS ON THE BBC WEBSITE ABOUT WHAT OUR SCIENTISTS NOW THINK ABOUT THE POSSIBLILITY OF TRILLIONS OF WORLDS IN THE GRAND UNIVERSE !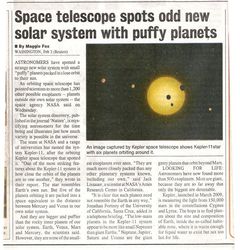 Urantia Book told us in 1955 about the existence of over 7 trillion worlds like our earth. In 2011 our most equipped scientists have begun counting !!!